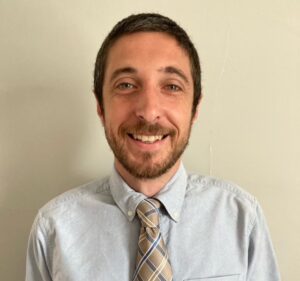 Matt Nevius teaches Philosophy 9, 10, 11 & 12 at Chesterton Academy of Omaha. A convert to the Catholic Faith. He has worked with the youth both as a Vocational Rehab counselor and a volunteer youth minister. He has also worked as a Graduate Student Assistant at Liberty University while working on his Master's degree in Philosophy.
Mr. Nevius has a BA in Philosophy and Religion and an MA in Philosophy from Liberty University. He wrote his MA thesis on the nature of human dignity.
Mr. Nevius has a wife and five children. He enjoys reading books to his children and spending time with his wife. They also enjoy hiking, camping, volunteering at their parish, spending time with friends and family, and other outdoor activities.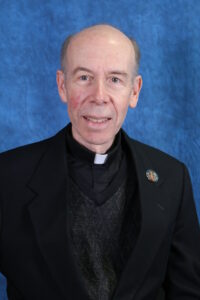 Msgr. Robert Laliberte
Philosophy
Msgr. Robert Laliberte grew up in St. Anthony's Parish in Fargo. After graduating valedictorian from Shanley High School in 1964 and spending two years at St. John's, Collegeville, MN, he received the Basselin Scholarship to Catholic University in Washington, DC, where he completed an MA in philosophy and an STB in theology. Returning to Fargo in 1972, he began his long tour of teaching and formation at Cardinal Muench Seminary. He was ordained a priest on December 2, 1973. His teaching, which continued until 2009, centered around Scripture, philosophy, and Hebrew. While there, he administered the parish at Kindred for five years and assisted the diocese especially in Deacon Formation, restructuring the Priests Council, and Continuing Education of priests. He earned a PhD in philosophy in 1996 from the University of St. Thomas in Rome, and was named a Monsignor by Pope Benedict in 2006. After leaving the seminary staff, he did two years of pastoral work at St. Anthony's in Fargo, which included beginning That Man Is You for the parish men.
Upon retirement in 2011, after residing two years in New Hampshire, he now divides his time between Fargo and Omaha, where he has helped found the Chesterton Academy of Omaha, a small classical high school, and is learning Spanish to bring the sacraments to the burgeoning population of hispanic immigrants. His residence (and mailing address) is St. Mary's Cathedral in Fargo.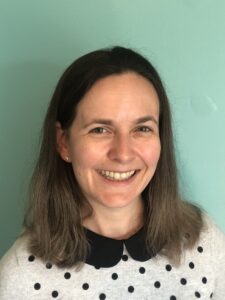 Nicole Stransky teaches Latin I and II and Literature at Chesterton Academy of Omaha. Mrs. Stransky received her BA in Liberal Arts from St. Thomas Aquinas College. She received a full scholarship to Ave Maria School of Law but elected to marry her husband Brian and start a family over completing a Juris Doctorate, and she's never looked back.
Mrs. Stransky worked for many years as a tutor with the Mother of Divine Grace homeschooling program. She homeschooled her own four children with MODG for 10 years, moving around the country while her husband served on active duty in the U.S. Army. While she values homeschooling and loves the MODG curriculum, she is excited about the rigorous in-person instruction and nurturing spiritual community that only Chesterton provides.
She teaches piano and serves as Troop Shepherd for her daughters' American Heritage Girls troop. She enjoys classic literature and music; hiking, biking, and playing badminton with her children, and trying out new recipes.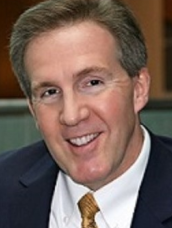 Chip Maxwell is a former Douglas County commissioner and Nebraska state senator. He has hosted talk radio shows and taught history and civics at the high school and college levels. He and his wife, Pam, are products of Catholic schools: St. Cecilia's, Creighton Prep, and Boston College for Chip; St. Robert's, Marian, and St. Thomas (St. Paul, MN) for Pam. They have seven children, two dogs, and a tenacious faith in 4,000 years of Judeo-Christian teaching.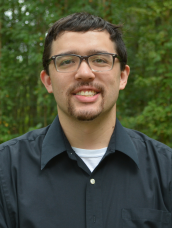 Mr. Ben Pancho returns for his 2nd year of teaching at Chesterton Academy of Omaha to teach Theology 9-12. A cradle Catholic and connoisseur of many Catholic topics such as apologetics, Marian apparitions, and the lives of the saints, Mr. Pancho has over 10 years of experience working in parish youth ministry and is in his 9th year of coaching high school girls' volleyball, currently serving as the JV girls volleyball coach at Abraham Lincoln High School, as well as the 13U Regional coach for Dowling Catholic Volleyball Club, both in Des Moines, IA. In addition to teaching at Chesterton Academy of Omaha, Mr. Pancho also has a background in financial services, and holds active life, health, and annuities licenses in multiple states.
Originally from Virginia Beach, VA, Mr. Pancho spent a year living in Omaha prior to moving to Des Moines where he currently lives with his wife, Jessica. When he is not teaching, working, or coaching, Mr. Pancho can usually be found working on a jigsaw puzzle or out in nature either geocaching or playing Pokemon Go.
Mrs. Jessica Pancho has a bachelor's degree in Microbiology from Iowa State University, and is currently obtaining her master's degree in theology and pastoral ministry. She has worked in different lab settings, as well as in youth ministry. Originally from Mexico City, she moved to Des Moines, Iowa when she was seven years old. Mrs. Pancho enjoys going to live music shows, and anything to do with the outdoors, as well as baking.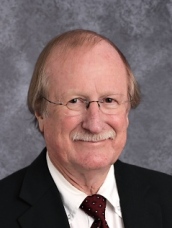 Rev. Mr. Ron Reno teaches Fine Arts and Art History at Chesterton Academy of Omaha. After graduating from the University of Kansas, Ron intended to be a graphic designer for a corporation, a publishing house or a print shop. Instead, Ron worked for several years for Safeway Stores, Inc. and became a store director for Safeway. He has worked for other companies over the years but he always felt beckoned to do art again. For the last 15 years Ron has donated his paintings and prints to any sound and Godly organization that requested. Most of his art was sold at auction for the glory of God. Through those donations and Fr. Scheibelhofer, he became introduced to Chesterton Academy of Omaha, where he has taught since 2016. Ron loves teaching and opening God's possibilities through art to his students.
Ron serves as a Deacon at Saint Stephen the Martyr Anglican Church in Sioux City, Iowa. He has been married to his bride Louise for 47 years now and together raised two children, Philip and Anne.
B.A. in Fine Arts/Studio and General Studies, Kansas State Teachers College
B.F.A. in Graphic Design, University of Kansas
Book Recommendation: Early Christian Doctrines by J.N.D. Kelly.
Favorite Place Traveled: England and Scotland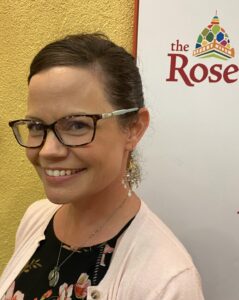 Mrs. Jessette Berggren teaches drama and English Literature at the Chesterton Academy of Omaha.
Mrs. Berggren studied English at Nebraska Wesleyan and is trained and certified as a writing instructor by the Institute for Excellence in Writing (IEW).
Her experience in drama encompasses 25 years with minor and lead roles in many different community theatre and operatic productions.
Her love of classical literature and her study of educational methodologies, both classical and modern, have led her to enthusiastically embrace the Chesterton curriculum as the best way to help young people understand the goodness, beauty, and truth of their Judeo-Christian heritage while also helping them traverse the current cultural pitfalls of atheistic humanism.
A lifelong Catholic, Mrs. Berggren and her family are members of the Church of the Holy Spirit in Plattsmouth.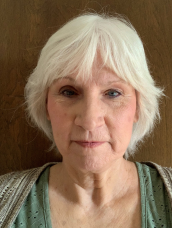 Originally from Chicago, Kat Doebel moved to Papillion in 1991 when her husband's Air Force career brought them to Offutt Air Force Base. Kat and her husband Martin have 3 grown children and 3 very young grandchildren.
Kat earned a BS in Music Education Vocal/Choral emphasis from the University of Illinois- Urbana/Champaign and a Masters in Music Education from the University of Nebraska – Omaha.
Since moving to the Omaha area, Kat has been involved in a number of musical organizations. She was the choir director at Gross Catholic High School in Bellevue for 23 years, retiring in 2015. As vocal music instructor, she was the music director for Gross Catholic musicals as well as music director for St. Bernadette's summer musical productions. In addition to being a cantor, she directed the Junior Choir for 10 of years at St. Columbkille parish in Papillion. This choir was one of two selected to perform in the first touring company of Joseph and the Amazing Technicolor Dreamcoat's Omaha run. From 2003-2010, Kat directed the high school choir affiliated with The Nebraska Children's Choir; Choral Arts Society Teens. Upon the dissolution of that organization, Omaha Academy Choir was formed. That choir's final concert was May 2021. While this appeared to be a final retirement, God had other plans with a call from Chesterton Academy of Omaha.
From 1991 to present, Kat has been a cantor at Boys Town Dowd Chapel. Kat also sings with Omaha Chamber Singers.
Kat and her husband now live on a hardwood tree farm in Council Bluffs. While it may be on the other side of the Missouri River, it is still part of the Omaha area they consider home.
LEADERSHIP
Board Members
Mr. Steve Eulie
Mrs. Maris Bentley
Mr. Charles Adams
Mrs. Jean Butler
Mr. Brian Stransky
Msgr. Robert Laliberte